Download
-
Games
-
Puzzles
- Funny Creatures
Free Funny Creatures Download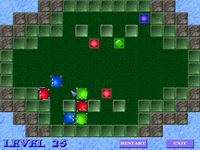 View more screenshots
Help Funny Creatures to solve original puzzles in the maze. In this puzzle game you should move colored creatures in the maze. To win you should follow each creature to its home. But it is not very easy to control the creatures because they can move only in a straight line and can not stop until collision with the wall or another creature. Funny Creatures game includes many interesting puzzles. Some puzzles are easy but others may be very difficult. It is not required to solve all puzzles one after another - you can start playing from any puzzle level you want.
Related Search For Funny Creatures:
funny creatures
puzzle
mind
logic
logical
game
maze
Funny Creatures
Funny
Creatures
Astatix Software
Astatix
Software
Software download
|
Terms Of Use
|
Privacy Policy
|
Submit software
|
Update your software
|
Contact Us
|
Link to us
|
Site Map
Copyright ©2007 Qeasoft.com All rights reserved.